Toro 30" TurfMaster HDX
Brand: TORO
Product Code: 22215
Availability:
Out of Stock
The solid and robust Toro TurfMaster is the ideal lawn mower for heavy-duty commercial use. The 30" cutting deck is very generous cutting mowing time by up to 40% ensuring you can fit more jobs in a single day. The self-propelled design enables you to mow lawns more easily, as there is no need to push the mower saving the operator from fatigue and allowing them to cover more area in any given day.
This unit is fitted with a large fuel tank, commercial engine and a robust and durable drive system to round this mower off as a "must-have" for serious commercial gardeners with large open areas. This unit is mostly a mulching mower with Toro being experts when it comes to recycling the grass. On the flip side, a unit that does exceptionally well at mulching is not typically a huge catching machine as the deck is enclosed to its maximum ability to ensure the grass is mulched effectively. These units do catch but can struggle a little when catching long wet grass because the chute is slightly on the small side.
There are loads of features on this machine such as impact protection with the front bumper, commercial wheels, elite mulching system and more!
If you're after a large mulching mower with the occasional need to catch then this is a great unit and the best on the market!
Specifications
Features
Videos
Specifications
Kawasaki FJ180V 179cc Commercial
Variable speed up to k.56kmh
38mm to 127mm in 13mm increments
Die Cast Spindle, 17mm cold formed spindle shafts
9" x 2." Rubber Tire w/Co-Polymer Wheels
10.5" x 3" Rubber Tire w/Co-Polymer Wheels
1 year limited commercial use - 2 year limited commercial use engine
Features
Collision Protection
The steel bullnose front bumper, prevents the engine from being damaged protecting it from unwanted contact.
Heavy Duty Components
The Toro TurfMaster is equipped with deck skid plates, tough sealed transmission and a strong one-piece handle all designed for the physical working conditions of a commercial environment.
Commercial Grade Wheels
The Wheels are made of strong co-polymer with ball bearings for a longer life span and smoother, easier operation for the operator.
Mulching System
The Toro TurfMaster has a mulching system fitted and ready to be used at the operators discretion. Removing the hassle of having to deal with removing clippings from the bag.
Large 3.9 Liter Fuel Tank
This large fuel tank on the Toro TurfMaster ensures you get mower mowing in-between refuelling.
Dual-Action Single-Bail Control System
This system results in excellent control and is easy to operate.
Blade Stop System
This blade stop system is a revaluation in both safety and practicality allowing the operator to step away from the machine with the blades automatically stopping but the engine continues to run. This also promotes s
No manuals are currently available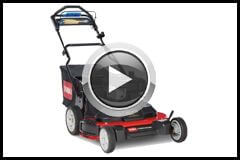 Toro TurfMaster 30 22200