Cub Cadet Wheeled Line Trimmer
Brand: CUB CADET
Product Code: 25A-26SD710
Availability:
Out of Stock
This tool is the ultimate piece of equipment for overgrown grass and weeds as its high-powered string makes light work of whatever you throw it into. The wheeled line trimmers are perfect for cutting long grass on fence lines and in areas where you just can't get the traditional ride-on mowers. It is also significantly lighter than holding a line trimmer in your hands for a long period of time making this unit much easier to use for extended times.
Powered by a reliable and durable Cub Cadet 140cc 4-stroke engine this unit provides ample power to the rotating head allowing the 4mm thick line to slash through the overgrown areas you are trying to maintain. The engine is easy to maintain and more of all really easy to start!
The wheeled line trimmer also holds a significantly stronger line than your traditional brush cutters so you can tackle natures strongest plants and weeds. The 22" cut in diameter is extremely generous for a line trimmer and the 14" ball bearing wheels make them a breeze to operate.
Specifications
Features
Videos
Specifications
22"/ 56cm cutting width/ diameter ideal for tall, dense grass & weeds
Adjustable 4.1cm (1.6") - 7.62 (3")
Adjustable 3-position loop handle for comfortable trimming and fold down for easy storage
2yr domestic / 90 day commercial on unit. Engine warranty as per manufacturer.
Features
22" Cutting Width
A line trimmer with a cut wider than your traditional lawn mower! A generous cut means you can get the job done quicker then you ever thought you would, clean up overgrown areas and clear grass on fence lines easily with this Cub Cadet wheeled line trimmer.
14" Ball Bearing Wheels
Big wheels are essential in a tool like this and thats exactly what the Cub Cadet is fitted with. 14" wheels to maximised manoeuvrability and the ball bearing wheels make them a smooth machine to push and pull.
No manuals are currently available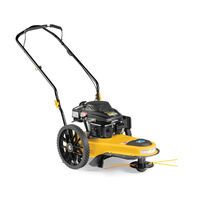 Cub Cadet Wheeled Trimmer