Honda UMK425 Loop Handle
Brand: HONDA
Product Code: UMK425
Availability:
Instore Sales Only
ASSEMBLED, FUELED, OILED, REGISTERED AND READY TO GO!

SEEN A BETTER PRICE ELSEWHERE? SEE IF WE CAN BEAT IT!
The Honda UMK425 Loop Handle is equipped with the latest Honda 4-stroke technology supplying more power and torque than ever. The engine is a GX25 mini 4-stroke engine which is lightweight and easy to handle. And of course, the Honda engine will start first time, every time.
The Honda GX25 produces low emissions and is very quiet compared to its 2-stroke competitors. With the Honda brush cutter running unleaded fuel, there is no need to mix oil and petrol!
The auto-decompression, electronic ignition and anti-flood primer system, the GX25 will deliver exceptional performance on all levels. As per usual the UMK425 loop handle comes with a 4 year domestic warranty, 3 year commercial engine warranty and 12-month commercial frame warranty. As Honda backs their quality products in for the long haul and so should you.
Specifications
Features
Videos
Features
Honda 4 stroke Technology
Honda's 4-stroke engines ensure that you will never have to worry about the hassle of mixing petrol with oil. As Honda engines only take straight unleaded petrol.
GX25 Honda Engine
Super quiet and powerful engine. Giving you all the power you will need to get the job done. Less power than the GX35 but still plenty for the typical homeowner.
Loop Handle
the loop handle enables you to turn the brush cutter on its side and do the edges of your property with ease.
Warranty
4 year domestic warranty, 3 year commercial warranty on the engine and 12 months commercial warranty on the frame.
No manuals are currently available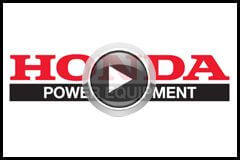 UMK425 Loop and Bike Handle Demonstration Video