Stihl HTA 135 Battery Pole Saw (Skin)
Brand: STIHL
Product Code: LA012000002
Availability:
Instore Sales Only
The most powerful Stihl cordless pole saw is on the market. Built by the professionals for the professionals.
This quiet, low vibrating professional pole saw is designed for use in noise-sensitive areas, for tree maintenance, orchards, parks, roads and much more! It is the first battery pole saw that Stihl have a manufacturer that powers a pole saw head that is a direct replica of the petrol-powered one.
The gear head is a lightweight magnesium design that features a sturdy branch hook for easily removing loose cuttings from the tree. The telescopic shaft allows you to easily and conveniently extend the shaft from 285 - 405 cm. When used in conjunction with the recommended Stihl AP 300s battery you gain about 45 minutes trigger time.
This professional battery tool will add another string to your fleet's bow.
Specifications
Features
Videos
Features
Quick Adjustment Coupling
Rotating the coupling and quickly release the shaft so you can easily adjust the cutting height of your tool from 285 to 405 cm.
Telescopic Shaft
The rigid, telescopic shaft can be quickly adjustable and is not a fixed length tool. This enables you to quickly adjust it to make it suitable for a range of heights.
Sprocket Cover with Cutting Line
The cutting line on the sprocket cover is directly in line with the cutting blade on the saw.
Magnesium Gearbox
A magnesium cutting head means a more robust, lightweight power head that is perfect for the professionals. It also works to reduce strain on the operator when using for a prolonged time.
Ergonomic control handle with LED display
The lever is ergonomic in design and has a self-resetting locking lever, which when used in combination with the ergonomic lever, provides a straightforward starting process. It makes the HTA easy to use for right and left handed users.
Air filter with metal mesh
Easy to clean and also protects the EC motor by allowing it to breathe nice and clean air.
Battery slot in the power tool
Slip any of the AP batteries directly into the tool directly making it super efficient to use.
Protective foot
The protective replaceable foot prevents the housing from resting onto the floor.
Quick release bracket for telescopic shaft harness
Quick release bracket for telescopic shaft harnessZoom Quick release bracket for telescopic shaft harness For easy handling of a pole pruner or hedge trimmer in combination with a basic shoulder strap or the RTS harness. The tool is easy to attach and quick to release and the clip can be easily moved by hand on the shaft.
Sturdy branch hook
After pruning, loose clippings can be easily removed from the tree with the branch hook.
No manuals are currently available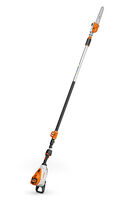 HTA 86