Billy Goat QV559HSP QuietVAC
Brand: BILLY GOAT
Product Code: 883069
AUSTRALIA-WIDE SHIPPING TO LOCAL DEPOT, JUST AS FOR A QUOTE!! VERY REASONABLE SHIPPING
This is a serious vacuum for hard surfaces. It is the quietest vacuum in the whole Billy Goat range! The 33" opening is generous in size and makes it perfect for most applications.
The Billy Goat design features a cyclonic filtration and their patented dust reduction sock technology that vastly decreases dust in dry conditions separating this unit from the rest of the competition in its class. Ideal for industrial large areas such as schools, hospitals, hotels, churches, airports, resorts and heaps more! The housing and 6-blade armour plate steel fan combination combine to give you the ultimate suction power so easily hand large amounts of debris. It reduces the debris at a rate of 12 to 1 also which means you can fit significantly more in the bag.
Self-propelled and features the shift-on-the-fly hydrostatic transmission with forward and reverse speeds to make operating the vacuum a dream! Powered by a Honda GX160 - an engine that is a leader in its class for power, durability and reliability.
Finance can be arranged!
(NOTE: hose kit is an optional extra +$529)
Specifications
Features
Videos
Features
World's Quietest Outdoor Vacuum
The QuietVAC has the lowest dB in its class compared to other vacs on the market with the same engine class. This means the Vac can be used in areas which are more noise sensitive than others!As low as 97 LWa and 77 dBa at full rpm and 96 LWa and 76 dBa at 2800 rpm.
Debris Bag Dust SkirtThey are fitted standard with a debris bag dust skirt.
Unique Cyclonic FiltrationIf purchased with the optional extra Dust sock by Billy Goat power equipment, they combine to dramatically decrease the dust in dry conditions even more. This ensures easier operation for the person manning the machine!
Hydrostatic Drive
The Billy Goat self-propelled drive system is unique as it helps you also steer the vacuum as you can apply speed directly to the left or right wheel depending on which way you want to turn, also having forward and reverse options at your disposal! Speed is 0 - 4.8km/h
Durable Front Caster Wheels
These long lasting strong caster wheels make the unit easy to operate and run smoothly though turns and over uneven surfaces.
Easy Steering
The easy to use clutches on the handlebars of the QV Vac makes it super easy to manoeuvre around!
No manuals are currently available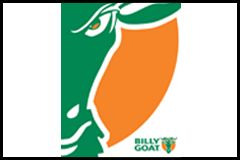 QV Quiet VAC Contractor