Toro GrandStand 48" Cut 22HP
Brand: TORO
Product Code: 74504
Availability:
Available on Request
This is one of my favourite units on the market. The Toro GrandStand mower is seriously underappreciated in the lawnmower industry within Australia. We are quick to want to plant our bums on a seat because it's less exhausting but if I was a contractor my main concern would be time. A Toro GrandStand mower allows you to quickly pull up at a job, jump on the back of the unit and take it off the trailer and cut an area before loading it back on. If there are any obstacles in the way you can quickly jump off the back of the unit, move it out of the way, and jump back on and continue mowing. This would save you loads of time and "time is money" when you're in the gardening game.
This unit gives you exceptional visibility of what's in front of you and the foldable foot platform instantly converts the GrandStand to a walk behind unit. These units save you loads of space on the trailer also so you can fit more tools on the trailer as well. Powered by a 22HP V-Twin Kawasaki engine with Donaldson air filter making it a high powered durable unit that you can rely on.
This unit is fitted with a 48" Turbo Force fully welded cutting deck with bullnose bumper which is designed to last the distance. Made from 7-gauge steel deck which is industry leading!
If your looking at improving the efficiency of your jobs and business a Toro GrandStand unit would be great for your company.
Also Available in:
36" Cut: RRP $14,699 inc. gst.
52" Cut: RRP $16,299 inc. gst.
Specifications
Features
Manuals
Videos
Specifications
Heavy-Duty Canister Air Cleaner
.6cm (.25") Heat-treated steel
11" x 5"-5" (28 x 13-13cm) flat free semi-pneumatic
7 gauge 48" (122cm) Turbo Force
2.5 - 12.7cm (6mm increments)
9 3/8" (23.8cm) diameter, cast iron spindle housing
3" x 1.5" (7.6cm x 3.8cm) x 12 gauge
20" x 10.5" - 8" (51 x 26.67 - 20 cm)
Features
Faster Ground Speed
Travel with speeds up to 16.1km/h! Now thats super fast and can save you up to 25% of your time whilst on the move.
Traction on Hills
The GrandStand unit has a low centre of gravity making it a lot more stable on hills and slopes as it hugs the surface. The operator can easily shift their weight also to make the ride much more comfortable.
Comfortable Ride
The operator platform is on self adjusting suspension, large surface area to plant your feet and curled edges to provide the operator with a more secure stance.
Better Visability
Operating the GRandStand gives you exceptional visibility of the turf in front of you resulting in less property damage and a better finish.
Less Maintenance
These units require less hydraulic hoses, less operating parts, no routine greasing and a simplified design.
Easier Maintenance
Access to both side of the engine, the hydros and controls with ease by simply removing the tank.
More Space
These units take up less space on a trailer and the platform easily folds up so you can fit more units on the surface area of your trailer!
Extended Fuel Tank!
The larger fuel tank means longer intervals of cutting in between refills and the less refills you have to do then the less time you spend off the unit. The transparent tank also makes it easy to see how much fuel you have left.
Ultimate Cutting Deck
What a unit. The deck is Toros well known Turbo Force cutting deck fitted with a 7 gauge steel frame which is fully welded and fitted with the bullnose bumper. Massive 1" spindles and 9" spindle housings for durability and reliability! No other decks on the market are as strong as the Toros. B section belts and durable long lasting blades.
High Quality Blades
These things are 6mm thick! Tested against flexing and are heat treated and made from high strength steel. The high-strength heat treated steel survives impacts and provides resistance to premature wear in abrasive conditions.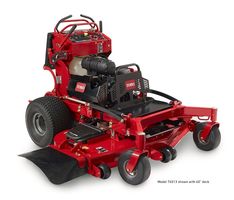 Toro GrandStand Mower