Toro Z-Master 7500-D 96" Zero-Turn
Brand: TORO
Product Code: 74096
INSTOCK
EXCEPTIONAL FINANCE DEALS ON OFFER
It's here and it's more impressive than we ever thought. The Toro 7500-D has hit the shores of Australia and offers the pinnacle of performance when it comes to efficient and effective grass cutting. Honestly don't know where to start with this unit but I suppose the engine is as good as any! Powered by a super reliable and powerful 37 HP Yanmar Diesel engine (1642cc). This 1.6 Litre diesel engine offers the best in efficiency and performance and is tier 4 compliant, the Yanmar engine utilises a Diesel particulate filter (DPF) which improves fuel efficiency as it reduces soot and also lowers its environmental impact.
The deck. The huge 96" cutting deck means the operator can cut loads of grass in a short amount of time. The durability of the deck is the same 7-gauge fully welded product Toro has built a reputation around for being extremely strong and ridged. The is split into three allowing it to cut extremely well on uneven ground and the wing deck design also allows it to fold to 75" allowing it to fit easily on a trailer for transportation! The deck is also shaft driven! The rear discharge also means that you won't be throwing debris out the side into oncoming traffic or into any buildings nearby.
The deluxe suspension seat also gives the operator superior comfort when using the machine so they become less fatigued during a days operation. The horizon technology implemented onto this unit gives you great control over its operations allowing you to select certain modes to get the most out of your diesel fuel, get servicing alerts and stay on top of your engine performance. Get servicing alerts and more!
Specifications
Manuals
Videos
Specifications
37 hp Yanmar® 1.6 litres 1642cc diesel
Heavy-duty canister air filtration system with electronic vacuum sensor
26" x 12" x 12" (66 cm x 30.5 cm x 30.5 cm)
15" x 6" - 6" (38.1 cm x 15.2 cm x 15.2 cm) flat-free semi-pneumatic
17.84 cu in Hydro-Gear HGM-H motors with 18cc Kanzaki® pumps
Toro Turbo Force Rear Discharge
7-gauge high-strength steel
1" heavy-duty Toro spindle shafts
Hydraulic with deck lift with rocker switch
1.0" - 5.5" in 0.25" increments (2.54 cm - 14 cm in 0.64 cm increments) 96" folding deck with adjustable center deck and wings
Sealed bearings (maintenance free)
4 Blades at 24.50" Length
Roll over protection - 2-post foldable ROPS standard with seat belt and latch
Deluxe suspension (iso-mount flip up)
5 year 2000 hour limited warranty (no hour limit first 2 years)
No features are currently available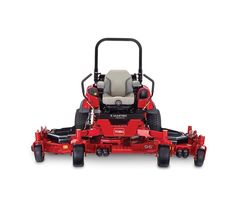 Toro 7500-D