Toro Z-Master 7500-D 60" Rear Discharge
Brand: TORO
Product Code: 72028
CONTACT US FOR A COMPETITVE QUOTE TODAY
FINANCE DEALS ON OFFER
This rear discharge unit is the first Z-Master 7500-D in the Australian range featuring a generous 60" rear discharge cutting deck and a 25hp Yanmar diesel engine to power it. The deck is shaft driven which is fully fabricated and made from 7 gauge steel to increase durability and strength to ensure it goes the distance.
The deluxe suspension seat also gives the operator superior comfort when using the machine so they become less fatigued during a day's operation. The horizon technology implemented onto this unit gives you great control over its operations allowing you to select certain modes to get the most out of your diesel fuel, get servicing alerts and stay on top of your engine performance. Get servicing alerts and more!
With Horizon technology you will increase fuel efficiency across a range of mowing conditions and the unit adapts to its surroundings through the push of a few buttons! This slashes fuel costs and maintains a high-performance level across all aspects of the park.
(side discharge deck not shown in images)
Specifications
Features
Videos
Specifications
25 hp* 1267cc Yanmar Diesel
60" (152.4 cm) (Rear Discharge)
Heavy-Duty Canister Air Cleaner Air Filtration System with Electronic Vacuum Sensor
3 blades at 52.07 cm length
38.1 x 15.2 x 15.2 cm Flat-Free Semi-Pneumatic
7-Gauge TURBO FORCE® w/ Bull-Nose Bumper
292.3 cu cm Hydro-Gear HGM-H Motors with 18 cc Kanzaki® Pump
Hydraulic with Rocker Switch
ROPS Height (Folded) 129.5 cm, ROPS Height (Upright) 182.4 cm
Deluxe Suspension (Iso-Mount, Flip-Up)
22.9 cm Diameter Cast Iron, 2.5 cm Heavy-Duty Spindle Shaft
4.1 cm Dia. Grips; Adjustable, Dampened
Deck Clearance Width 168.4 cm
5 Year 2000 Hour Limited Warranty (No Hour Limit first 2 years)**
* The gross horsepower of these diesel engines was laboratory rated at 3600 rpm by the engine manufacturer in accordance with SAE J1940 or SAE J2723. As configured to meet safety, emission and operating requirements, the actual engine horsepower on these mowers will be significantly lower. **See retailer for warranty details.
Features
Setting the Bar with Comfort
Operator comfort is significant for Toro and the Z-Master 7500-D has nailed it. The floor pan and deluxe suspension seat are iso-mounted to reduce vibration. That results in a better operator experience and more productivity.
Powered by the Best. Superior Performance
Power is one thing this unit is definitely not short of. Powered by a 25 hp Yanmar diesel engine, this mower is packed with power to tackle the toughest mowing jobs. The rear discharge cut also makes this unit perfect for roadside work etc as it throws the clippings out between the operators legs rather than out the side.
Extended Service Intervals
Simplicity. You will save on maintenance with extended service intervals and a deck design that uses up to four matching blades. The mower is also backed by a 5-year, 2,000-hour warranty (first two years no-hour-limit).
Horizon Technology
Stay in complete control of the machine. Whether that means for the cutting conditions or maintenance you will have everything at your fingertips. Choose the right operating mode for mowing conditions, saving fuel costs while maintaining top-level performance with our Horizon™ Technology.
No manuals are currently available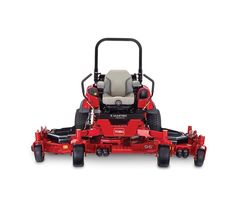 Toro 7500-D
7500-D (all models)