Toro Z-Master 4000 Series 60" Zero-Turn
Brand: TORO
Product Code: 74054TA
BIGGER. BETTER. STRONGER.
No matter what machine Toro releases they continue to set the bar so much higher each time which is why they are no.1 when it comes to grounds care equipment.
The Toro 4000 Series screams durability, strength, quality of cut and most of all it looks bloody mean! Toro understands the market and what we need in a grass cutting machine then they put all that knowledge together to come up with a unit that satisfies those needs in abundance.This Toro 4000 series features the deluxe seat for superior comfort and a large 60" Toro turbo force cutting deck.
The brand new Toro 4000 series features the Toro Turbo Force deck which has a strength that is unmatched by competitors in the same market as it gives you 7 gauge steel with a fully tubular frame allowing you to experience years of performance without any issues at all. This deck is then powered by a reliable 4-Stroke V-Twin 25.5 Kawasaki FX801V Engine that is well known in the industry for its reliability and durability. The canister air filter ensures it breathes clean air and increases service intervals as it can handle dustier conditions when compared to smaller designed air filtration systems.
This unit is further complemented by huge 26" Voodoo Tyres that maximise both grip, traction and comfort (plus they look bloody tough). The features don't stop there as they have a rubber side chute, more cup holders and USB ports all add up as sometimes its the little things that can make a big difference. It also features an anti-slip floor mat that gives you grip and also reduces the vibrations of the machine. The ROPS has quick-release nobs so you can easily fold the bar down when needed to get under trees or the clothesline! It also features an LED light and larger 26" wheels for more grip and a better ride and utilises the new Voodoo Trac tread!
The tested and proven heavy-duty cast 9" aluminum spindle assemblies and large driveshaft along with the quick blade tip speed leave you with a durable cutting system that also leaves a great finish. the maintenance-free bearings also remove the hassle of ever having to grease the deck bearings also and are tested and tried in a hard environment.
Get yours today.
Specifications
Features
Videos
Specifications
25.5 hp* Kawasaki FX801V (852cc) with Heavy-Duty Donaldson® Canister-Style Air Cleaner
.204" (.5 cm) Heat-Treated Steel
15" x 6.5" - 6" (38 x 16.5 – 15.2 cm) Pneumatic
60" (152.4 cm) 7-Gauge High-Strength Steel TURBO FORCE®
Voodoo Trac 26" x 12" – 12" (66 x 30.5 – 30.5 cm)
Standard, 1.5" - 5.5" (.25" increments) 3.8 – 12.7 cm (.6 cm increments)
9" (22.9 cm) Diameter Aluminum
1.4" (3.6 cm) Diameter Grips; Adjustable, Dampened
ZT-4400 Integrated Pumps & Wheel Motors
Features
26" Voodoo Trac Drive Wheels
These things look mean. they also provide heaps of traction, but lets be honest, its the looks that get us going! Aggressive tread for an aggressive machine
Travel up-to 19km/h
Now thats quick. Get more done in less time and cover large amounts of area with speeds like this.
LED Headlights
This lights up the front area when mowing or operating the unit in darker areas.
TORO Turbo Force Deck
Signature Toro strength in the deck with a fully welded 7 gauge deck with bull nose bumper
Rubber Discharge Chute
Never worry about breaking or smashing a discharge chute again with the rubber side chute! Also removed the need to worry about damaging an obstacles when trimming near by!
Deck Step Plate
Keep your grip and remove excess mud from your shoes etc.
Clear Eyesight to Rear Tyres
Clear sightline to rear tires for enhanced control so you can clear a path without tire spin.
Dual Capture Anti-Scalp Rollers
The dual scalpers ensure that the highest quality of cut is achieved all the time.
Tooless Air Filtration
You can easily access and clean the air filter without tools
Phone and Cup Holder
There is a spot for your essentials whilst using the unit. Keep your phone and drink at arms length all the time
USB Ports
USB ports installed to the unit to keep you going on the job
No manuals are currently available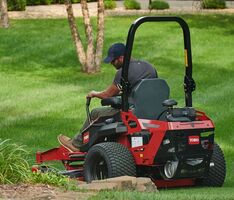 Toro 4000 Series