Toro 8000 Series 48" Direct Collect
Brand: TORO
Product Code: 74312
Availability:
Available on Request
Need a mower that can catch? Well, the Toro Direct collect is a mower that competes with other catching mowers in the market and wins comfortably. Perfect contractors and recreational grounds which have large areas that require the grass to be collected and taken away.
Powered by a super reliable 25HP V-Twin Kohler Command Pro engine that is electronically fuel-injected meaning it is more efficient saving your back pocket when it comes to fuel. Fitted with a 48" closed, floating cutting deck with counter-rotating twin blades. The mower is zero-turn also which will save you countless time whilst on the job. The 48" cut is the larger of the two 8000 series models and is for the customer who is seeking a more generous cut as their area is much more spacious.
Let's have a look at what makes this machine the elite mower! Fitted with hydraulic pumps that have the latest technology requiring no cooling fans. The belts are extremely easy to get to due to its unique engine fitment. It features a 7 gauge steel fabricated side and 10 gauge continuous bead weld for superior strength.
One massive positive is this mower can easily be switched from catching to mulching. Two bolts need to be changed and the deck remains the same. That's how easy it is. You can even mulch 75% and catch 25% of the grass clippings if you would like to. Competing models have separate decks you must install to switch to mulch and some even require 4 blades!!!
The massive 6" outlet into the hopper also makes this unit to catch better and has a larger impeller which can provide up to 50% more displacement to vacuum and collect. A deeper deck a 4 5/8" means it can mulch better and it is also stronger.
Buy Toro. Buy the best.
Specifications
25HP Kohler Command Pro 725cc (18.6kw) EFI
Heavy-Duty Canister Air Cleaner
18,500 ft/min (5,640 m/min)
.164" (.417 cm) heat-treated steel
8" x 3" - 4" (semi pneumatic)
Mechanical (lever-operated)
Tandem Pumps (12cc/rev) & Wheel Motors (18 cir)
Up to 11.4 km/h (Forward)
2.5cm - 10.2cm (.6cm increments)
*The gross horsepower of these gasoline engines was laboratory rated at 3600 rpm by the engine manufacturer in accordance with SAE J1940 or SAE J2723. As configured to meet safety, emission and operating requirements, the actual engine horsepower on these mowers will be significantly lower.
No features are currently available
No manuals are currently available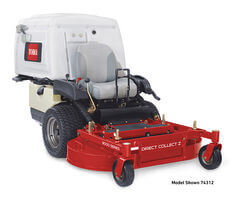 Direct Collect