Truyard Chipper CM95 Honda GX390
Brand: TRUYARD
Product Code: CM95
Product Options
This Truyard CM95 is the mother of all chippers and its high strength 40 mulching blades makes this machine super efficient. It can mulch up to 95mm in diameter! Thats massive, meaning there is almost nothing in your backyard this muncher cannot tackle and anyting larger is perfect kindling for a fire anyway. The Honda GX390 engine is both reliable, durable and packs plenty of power, qualities honda has built their remarkable reputation of the years.
If your after a powerful, reliable and durable chipper/mulcher to help you dispose of any debris then this is the unit for you.
Specifications
Features
Videos
Features
The large hopper lets you feed a huge amount of waste at once, saving you time and effort.
Nothing shouts reliability more than a 4 stroke Honda engine and thats exactly what is powering this mammoth CM95 chipper. Years of four stroke technology has seen Honda produce arguably the best small engine on the market giving you a product that you can trust day in day out.
This huge chipper has the ability to mulch 95mm in diameter meaning there is almost nothing in a backyard that this thing can't tackle.
No manuals are currently available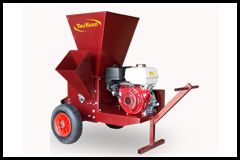 CM95 Demonstration