Toro 60V Battery Chainsaw 16" (Battery & Charger Inc.)
Brand: TORO
Product Code: 51845TKIT
FREE SHIPPING AUS-WIDE*
2.5AH BATTERY AND RAPID CHARGER INCLUDED
24 HOUR DISPATCH (MON-THURS)
You Toro flexforce range has the ability to also work in the 60V Toro lithium-ion chainsaw that features a brushless motor with more power, more runtime and increased lifespan.
The digitally controlled brushless motor gives you more power when you need it making the chainsaw really reactive when you call on the product for more power through the trigger.
Toro experts state that you can manage roughly 50 full cuts of a 15cm x 15cm piece of wood which is ample cutting for most backyards. (with the 2.5 Ah battery - if you have the 6.0 Ah battery that comes with the mower then you would get closer to 100 cuts). It features a generous 16" bar that allows you to tackle most common jobs around the yard!
Like all Toro FlexTool products - backed by a 3-year warranty on the battery and unti.
Specifications
Features
Videos
Specifications
15cm x 15cm (up to 50 cuts)
0.95 cm Pitch / 0.1 cm Gauge
Chainsaw 3 year full Battery 3 year full (sold seperately)
Features
Generous Bar Size
Not many chainsaws that are battery powered have a bar this large in size. It then allows you to cut larger logs more easily.
DC Motor
The brushless Toro DC motor creates less friction - this translates to more efficient power and less wear for a longer lasting machine!
Easy Starting
No fuel means no pull start! Just press the safety button and pull the trigger for instant power
Get Loads Done
Cut through a 6" x 6" timber up to 50 times on a single charge.
Ergonomic Handle
Cushioned handle for added comfort, better grip, and less vibration.
Safety First
Automatically stops the chain if the chainsaw kicks back, keeping you safe.
View-Through Oil Level Indicator
Never run your unit dry - easy keep an eye on the oil in the tank.
No manuals are currently available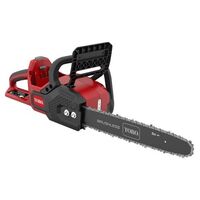 Toro 60V Chainsaw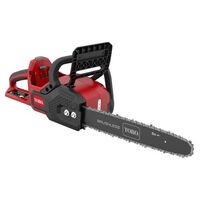 Toro 60V Chainsaw