Toro Z-Master 6000 Series MyRide 72" 31hp Kawasaki
Brand: TORO
Product Code: 72968
Availability:
Out of Stock
Want the biggest petrol-powered cutting deck you can buy at an affordable price? Then look no further than the Toro 72" MyRide 6000 Series.
This is a genuine beast of a machine that is designed to handle the roughest and toughest conditions you can throw at it. The huge 31Hp Kawasaki engine powers the durable spindle housings that are designed to monster through the grass below. Fitted with the Toro MyRide suspension platform the operator will be comfortable at all times as the lumps and bumps of the turf below is reduced due to the 9cm of travel.
The 6000 series Toro is for the serious grass cutter only. This model features a mammoth 31HP 999cc V-Twin Kawasaki engine that will power through tall grass and give you a top ground speed of up to 18.5km/h.
The deck is what separates Toro from the rest. This 6000 series machine has 9" in diameter cast aluminum spindle housings and oversized shafts to give you a unit that is both durable and high performing. The high blade tip speed allows it to perform well in Aussie conditions and a 7gauge deck with welded bullbar to strengthen the front means you know you are buying a machine that is built to last.
The mammoth 72"cutting deck is ideal for cutting large open areas that require a larger cutting deck to save you time and money.
Rollover protection, unitized pumps, and wheel motors, the features are endless. For more details please contact us today.
**please note: 60" model shown"
Specifications
31 HP* Kawasaki® FX 999cc
Heavy duty canister air cleaner
6mm thick heat treated Toro blades
7.6 cm x 3.8 cm tubular steel
13" X 6.5" – 6" (33 cm x 16.5 cm – 15.2 cm) Flat-Free Semi-Pneumatic
80-Grade 7-Gauge 60" (152 cm) TURBO FORCE® w/bull-nose bumper
Unitized Pumps (16cc/rev) & Wheel Motors (17.1 cir)
24" x 12" – 12" (61 cm x 30.5 cm – 30.5 cm)
ROPS Height (Folded) 46.8" (118.9 cm), ROPS Height (Upright) 70.5" (179.1 cm)
1.0" – 5.5" (2.5 cm x 14 cm)
Handcrafted deluxe suspension seat with arm rests featuring bullhorn accent
9" (22.9 cm) diameter cast aluminum
1-5/8" (4.1 cm) diameter grips; adjustable, dampened
MyRIDE® Suspension System
Qty 4, 2.5" 3-D isolation mounts
5 point adjustment on rear shocks
No features are currently available
No manuals are currently available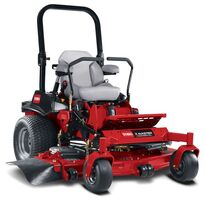 Toro Z-Master / MyRide