Cub Cadet XT1 LT42 IntelliPower
Brand: CUB CADET
Product Code: 13A6A9CS330
ADD TO CART
Talk about bang for your buck.
The all-new Cub Cadet XT1 LT42 with IntelliPower packed with loads of features including the Cub Cadet 547cc OHV engine. What Cub Cadet Intellipower does is it digitally monitors and maintains the engine speed when it hits damp or heavy grass, allowing the engine up to 20% more power when required so that it doesn't bog down in the cut and we all know how frustrating that can be!
This feature is especially helpful in periods where your grass is lush after heavy rainfall and IntelliPower ensures you maintain consistent blade speed and in return a consistent cut! this responsive tailored power, delivered by an electronic governor makes the unit a step above the rest in this class and can also help significantly on hilly terrain!
The unit features a 42" pressed cutting deck which is really generous in size for the price and the unit also has Cub Cadet steering technology that results in unbelievable steering for a tractor style ride on producing a 16" turning circle! This helps you to easily maneuver around obstacles easily without having to fork out for a zero turn!
The unit is hydrostatic meaning it is simply forward and reverse with your foot, no gears! The manual PTO is easy to use and engage and the high back seat with spring suspension makes it comfortable to sit on.
Last but not least this unit is packed with a huge 6-year domestic warranty on both the engine and the unit!!! Now that's peace of mind. Get in now with your pre-orders because these units will not last long!
Check out the VIDEO review of this machine cutting damp wet grass by TOOLS IN ACTION below.
Specifications
547cc Cub Cadet single OHV with IntelliPower
107cm 42" Pressed cutting deck with 2 blades (13 gauge)
Tuff Torque Hydrostatic Foot Operated
Front: 15.00 x 6.00 turf saver / Rear: 20.00 x 8.00 Turf Saver
6 years on domestic on engine and unit. 90 day commercial warranty
No features are currently available
No manuals are currently available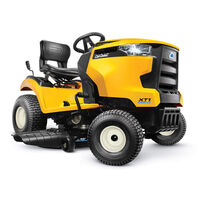 Cub Cadet IntelliPower