Toro Stand-On Spreader Sprayer
Brand: TORO
Product Code: 34230
Availability:
Available on Request
CAN ORGANISE DEMO-DAYS IN THE BALLARAT REGION
PLEASE CONTACT US FOR A QUOTE - mitch@hendersonmowers.com.au
DELIVERY CAN BE ARRANGED
Toro is no joke when it comes to specialist turf equipment and that's why they are no. 1 worldwide when it comes to grounds care. The Toro Stand-On Spreader Sprayer is an elite product in its class and designed for serious grounds care programs. The clog-free flow allows super consistent liquid which flows onto the turf below via an auxiliary pump that delivers up to 10 PSI.
The control panel puts you in complete command as it allows the operator to fully adjust the spread and spray settings to your desired needs. The super innovative lean to steer technology lets the operator control the forward/ reverse and left/ right steering with one hand only which free's up the other hand at all times!
The large capacity spray tank holds a huge 75 litres and the huge hopper can hold 80kg of product so you can get more done without having to stop for refills more frequently. It is designed to maximise ground coverage and reduce the re-fill stops increasing productivity and efficiency.
the compact design has a purpose with this little beauty fitting in between 36" gateways so that you can spread and spray in all areas. Operator comfort is also paramount with the large stainless steel platform nice to stand on and the iso mounts reducing vibration and the ergonomic knee pads allow for a much more comfortable ride.
If your serious about your turf then the Toro stand-on spray/spreader is a must for your grounds care maintenance.
Specifications
Features
Manuals
Videos
Specifications
9 hp (6.6 kW) Subaru EX27, 265 cc
Standard, hand-held spray wand for spot spraying
Length: 171.4 cm Width: 90.1 cm Height: 130 cm
Front: 13 x 6.5"-6" Rear: 18 x 7.5"-8"
1 year warranty *See your certified Toro dealer for full details on warranties.
Features
Lean to Steer
This innovative steering system lets the operator control forward/reverse and left/right steering with one hand, leaving one hand free at all times for adjustments on the fly. This allows for excellent convenience, control, and maneuverability.
Easy-To-Use Controls
The easy-to-operate control panel allows the operator to conveniently make adjustments to spread and spray settings. Featuring Toro's Learn to Steer technology, these adjustments can be made on the fly at any time during operation because one hand is always free.
Large Capacity Hop
From the 20-gallon spray tank and 175 lb. hopper capacity to the 1.59-gallon fuel tank, Toro's Stand-On Spreader Sprayer is designed to maximize ground coverage and reduce re-fill stops- more time spent getting the job done and less down time. This results in increased productivity and outstanding efficiency.
Compact Design
The compact design allows for exceptional maneuverability in tight spaces, including fitting through 36" gates, so spraying and spreading is possible in any area.
Operator Comfort
The large stainless steel operator platform, isolation mounts and the ergonomic padded knee bolster allow for a more comfortable ride and reduced operator fatigue.
Hand Held Spray Wand
The hand-held spray wand comes standard for spot spraying to ensure you're covering the whole job, no matter how difficult to reach.
Spray Tank Agitation System
Two agitation nozzles in the spray tank can be turned on and off on demand from the operator panel to keep material in the tank circulating for even distribution and reduced clogging.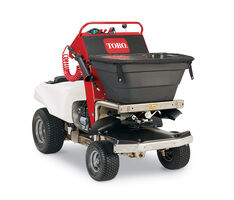 Toro Stand-On Spreader