15 June 2018

(This article has been updated on the 15th of March 2019 as further information has become available) Greenfield much like ourselves at Henderson Mowers & Chainsaws are a proud, family-owned Australian business supporting our own economy and own people. Greenfield has been manufacturing durable products for Australian conditions since 1966 and in doing so has built a reputation not many other machines can compete with.
For obvious reasons manufacturing in Australia has its complications although in a revised effort to maintain the quality, accessibility and support Greenfield has entered into an agreement with Cox Australia which will see them produce Greenfield products from their manufacturing site in Brisbane. This will combine over 100 years of Australian lawn mowing expertise between two of Australia's most prominent brands Cox and Greenfield. We have been assured that this move will see Greenfield and Cox benefit as a whole spreading over-head costs and increasing buying power with the benefits being passed onto our customers. These benefits include more competitive prices, a larger model range and a more responsive spare parts management system.
Henderson Mowers & Chainsaws Ballarat has been established since 1963 and over the years it has continually grown with the Greenfield brand, appreciating the reputation that comes with it. Providing numerous amounts of Greenfield products to customers locally whilst even shipping some internationally via our website that has seen us export Greenfield ride-on too New Zeland!
---
---
Henderson Mowers & Chainsaws looks forward to the opportunities this presents for our customers and welcomes the proactive thinking of Greenfield to ensure that their products remain an integral part of the Australian mowing industry. Henderson's see's first hand the high-quality products that Greenfield produce and the niche market it caters for and this will enable that to continue for years to come.
Below we have attached the press release by Cox and Greenfield jointly whilst also giving you a taste of the models to come. Feel free to contact us if you have any questions about this new and exciting chapter the life of Greenfield Mowers.
The NEW Greenfield Models:
With a new chapter comes change and Greenfield has added a couple of products to their range whilst also redesigning and improving the much loved traditional Greenfield Fastcut Model. We will go through each of the three models explain which market they are aimed at and why you should be purchasing it if it is right for you. We will start with the best and the one I am most excited about, the Greenfield Fastcut 2!
Greenfield Fastcut 2 Model:
The Greenfield Fastcut model is your traditional bread and butter Greenfield machine, Australian made for Australian conditions. Now they have gone to the drawing board and come back with a new and improved version which at first may not look like a traditional Greenfield but it boasts all the same features you have come to know and love plus some added improvements, are you excited yet? First, let's take a look at it.
---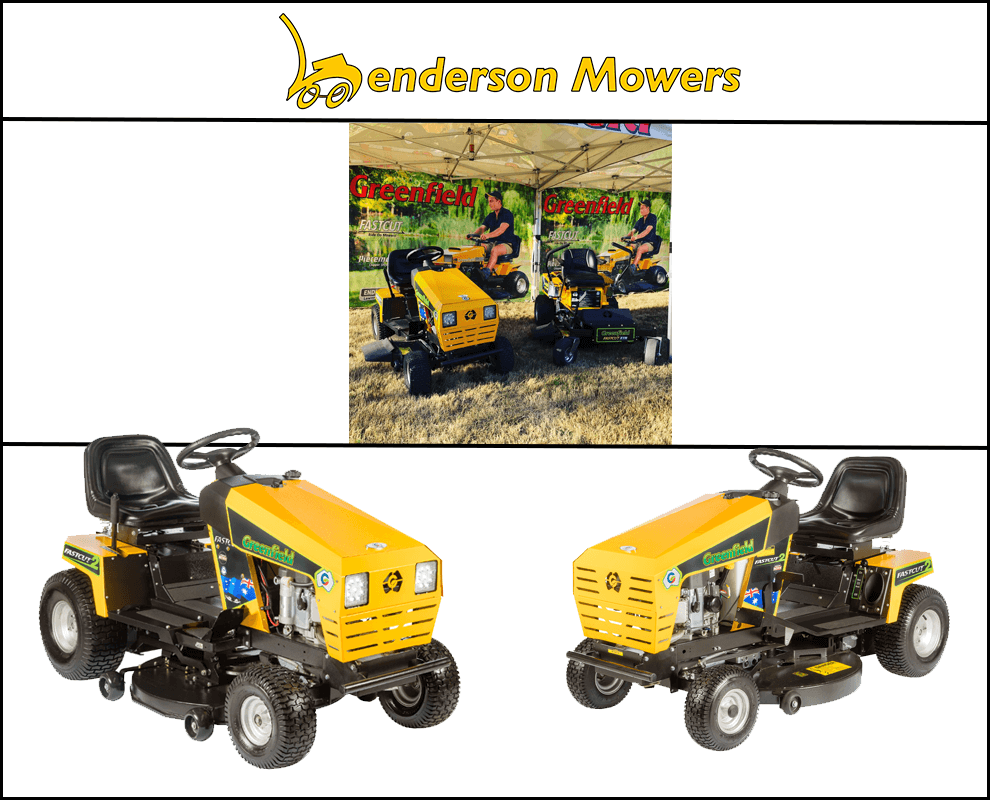 ---
Now the models available are as followed and a price list is available towards the end of this article:
Deluxe 34" Alloy with a 24hp V-Twin
Deluxe 34" Alloy with a 17.5 Single Cylinder
Deluxe 35" Fab Steel with a 24hp V-Twin
Deluxe 35" Fab Steel with a 23hp V-Twin Vanguard
Deluxe 35" Fab Steel with a 17.5 Single Cylinder
Standard 32" Alloy with 17.5hp Single Cylinder
Standard 32" Alloy with a 24hp V-Twin
Standard 32" Fab Steel with 17.5hp Single Cylinder
Standard 32" Fab Steel with a 24hp V-Twin
Now let's talk about the new advantages. Well everyone that's had a Greenfield before and is a rather tall person, sitting on a Greenfield and getting on and off a Greenfield was a pain. The new design addresses this issue by using a larger step-through for elderly people and taller people to more easily get on and off the machine, thank-you! Now the next advantage is in the drive and although you may not understand the pros of this change if your not very mechanically minded, trust me, it is a great addition. The new drive system uses a series of crush washes which push against each other to automatically set the drive pulleys on the axel so that the spacing between the cork and the drive pulley is correct, this makes fixing the drive when worn a much easier task to do for mechanics. Traditionally they used shims which had to be added or removed according to the condition of the corks which was time-consuming a very labour intensive. The drive tension is now also on a spring underneath the mower which automatically adjusts as the drive belt stretches!
Now let's discuss the new engine. The brand new V-Twin is called a Power BOSS engine and made by the Chinese manufacturer Loncin, now Loncin is a huge player in the small engine market and the even make the Toro V-Twin Engine found on at least 80% of there zero turn mowers! So have no fear, Loncin is a proven small engine manufacturer. Spare parts are also readily available with some of the largest aftermarket companies in Australia carrying a wide range of parts. The standard Greenfield will carry a single cylinder 17.5 Briggs & Stratton Engine.
Production of these units has begun but as you can imagine with the Greenfield mower not being in production there is a large backlog of orders so availability will have a waiting time attached to it for some time until stock levels are recouped. For more information on this please contact your nearest dealer.
So as you can see the all-new Greenfield Fastcut 2 has many features which have improved on its previous model and we are excited to share this with you guys!
---
Greenfield Model and Price List* (inc. gst.):
Below is the new and improved range of Greenfield products that will be available in as of March 2019 for consumers. We look forward to helping our customers in making the right choice when purchasing from the new range whilst also providing backup and support for all the products in the range. Please zoom in for viewing if you are currently using a mobile phone.
---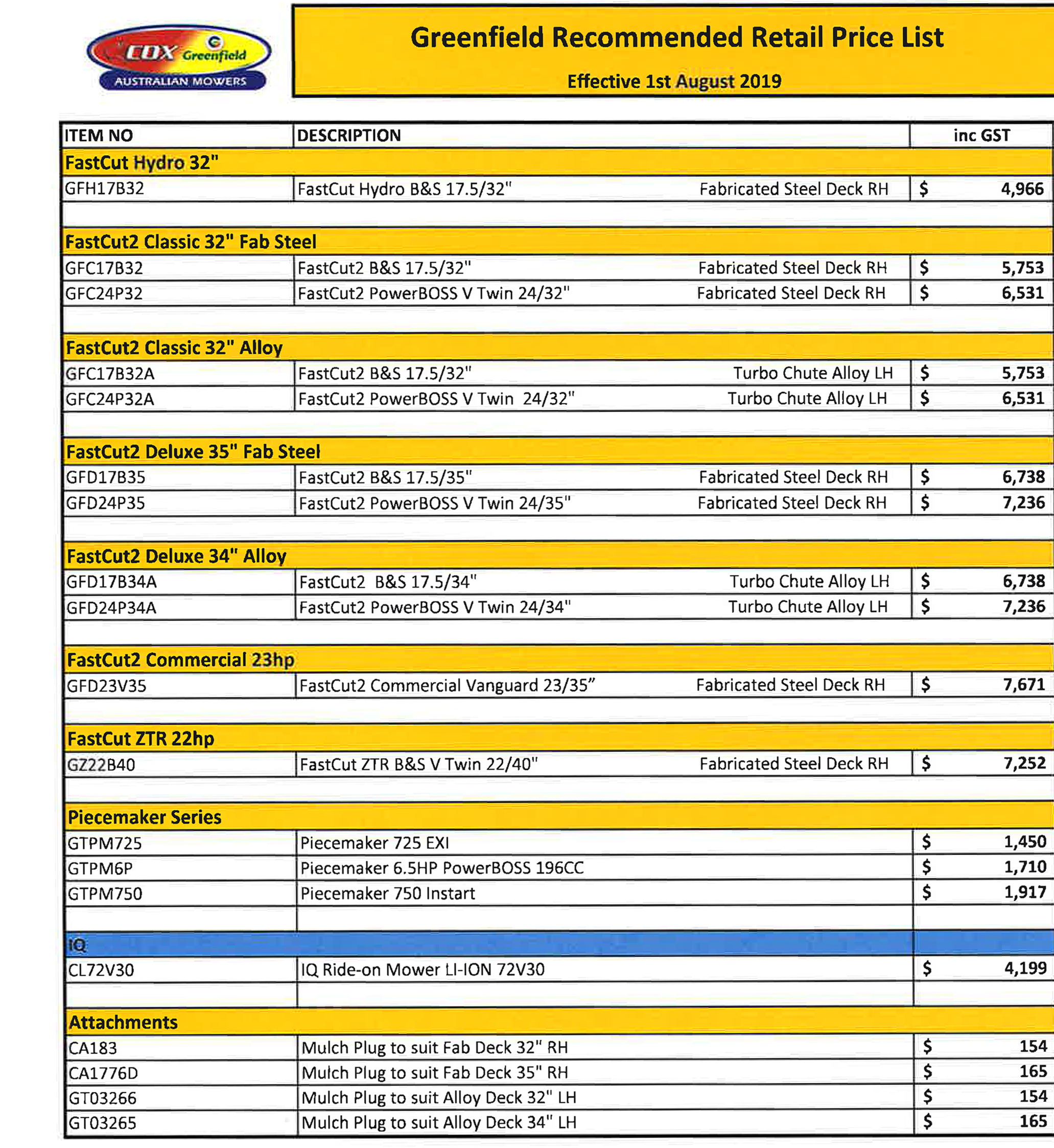 ---
As you can see there is an extensive increase in the number of units being offered to customers and entry-level prices reducing making a high-end Australian made product more affordable for Australian's. We are particularly excited about the new entry-level ride-on mower which will open up the Greenfield brand to a whole new customer base that was previously priced out of the Greenfield range making it more accessible to everyone. Notably, all domestic push mowers have been removed from their production line although I have been in contact with Greenfield and they have not written off bring them back in the future.
*Prices are noted as of the date 01st of March 2019 and are subject to change after this date, please contact your nearest dealer for the current RRP.
Cox Australia Press Release: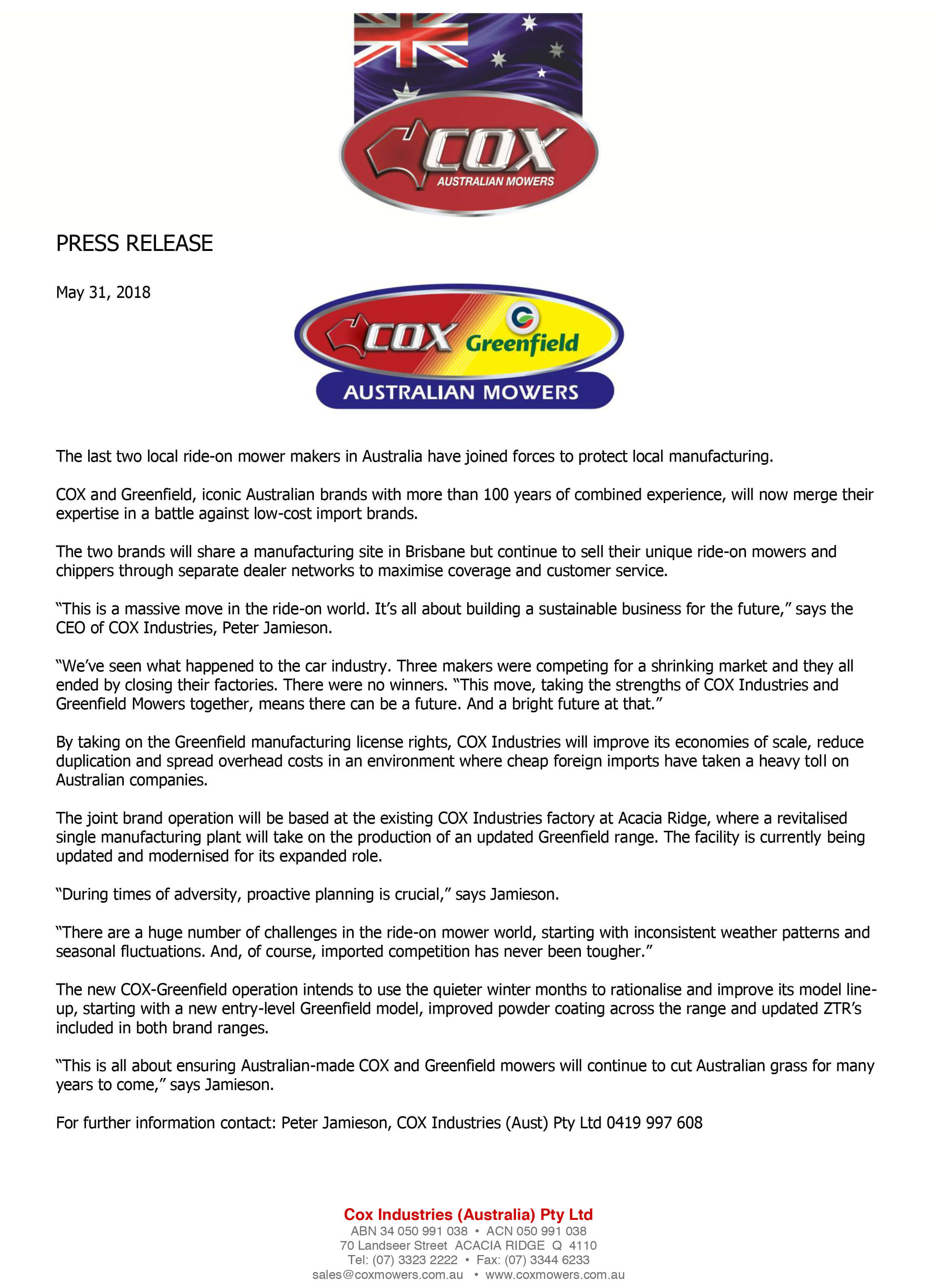 Cox has released a statement regarding the current situation between themselves and Greenfield the positive implications they believe will stem from it. We have made it available in the image below, please note if you are reading on a mobile phone please zoom in and you will clearly see the details of the letter. If you have any further questions please contact us and we will endeavour to answer them for you!
---
SHOP GREENFIELD PRODUCTS NOW:

---